Market Views
Q&A: Credit Partnership Powers
In the following interview, Jon Bock, Senior Management Director at Blackstone Credit, speaks to Brad Boggess who leads Blackstone's Asset Management for Blackstone's Credit platform.
---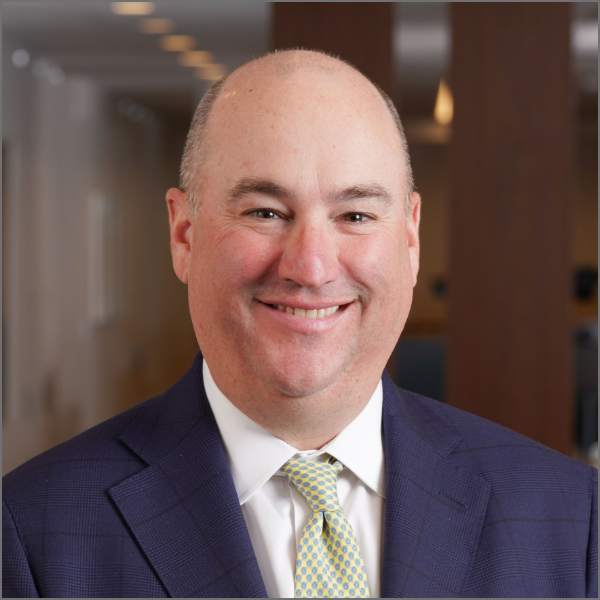 Brad Boggess
Managing Director, Credit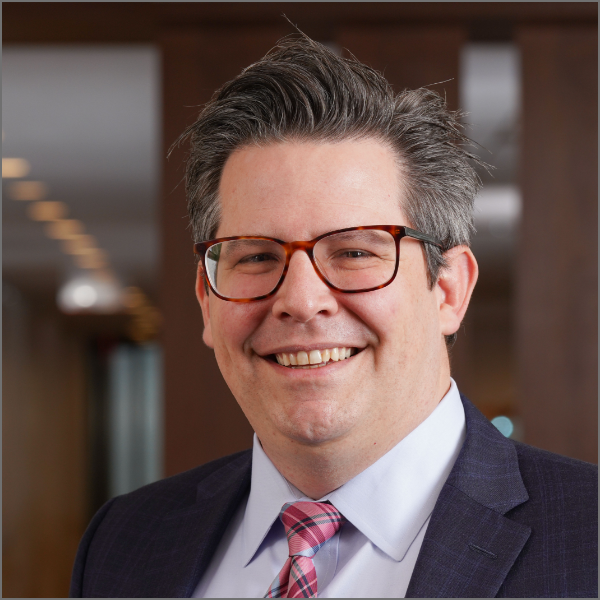 Jonathan Bock
Sr. Managing Director, Credit
Professionals in the credit business talk about the paramount importance of defensive positioning all the time, but there is no substitute to having boots on the ground. In conversation, two veterans of the private credit world discuss what it really takes to build, maintain and execute a defense-first strategy that can help to protect investors against worst-case scenarios.
Jon Bock: I've been in Private Credit a long time, both as a sell-side analyst covering business development corporations and an operator of BDCs. There are a lot of media stories and analyst prognostications about the credit market. Most of it boils down to: "How do investors protect against downside risk in this challenging environment?" This is one we hear from all clients—across the globe.
At this point, investors are likely familiar with Blackstone Credit's focus on large, leading companies in less cyclical, high-growth sectors with strong cash flow. They may be less familiar with your team, Brad, which is very important and unique to Blackstone—and which I've gotten a chance to learn about recently up close.
Can you tell our investors what you do here at Blackstone?
Brad Boggess: So, I head up a group that's charged with bringing the full scale, network, and expertise of Blackstone with the aim to create value for our portfolio companies—more than 200 of them—and ultimately our investors. For example, our group purchasing programs help them save money, creating roughly $3 billion of value across the portfolio. We also help our companies boost their topline through cross-selling, matching buyers and sellers within the portfolio, creating dynamic synergies that have generated more than $300 million in incremental revenue for our portfolio companies. And crucially, we bring the deep functional expertise of Blackstone to our companies, helping them to reduce risk through robust programs in cybersecurity, ESG, and human capital management.
Bock:And that's just the always-on, almost day-to-day value-add that your group creates. Talk about the extraordinary circumstances when a portfolio company may face more than the usual challenges.
Boggess: In addition to our value creation platform, we also have a team of professionals who focus on our most challenging situations, where we deploy dedicated restructuring, operations, financial, and legal experts with the aim to protect our investors in these situations. This team has an incredibly diverse set of skills and leaders who we can bring to bear at the right time.
Bock: I've heard you say, "Aiming to Protect investors from the downside starts first with effective portfolio monitoring." Lots of folks say they do it, but how do you do it differently?
Boggess: First of all, lots of people say it, but most of them simply don't have the scale to do what we do. Blackstone has very deliberately invested in portfolio management resources across the entire firm, including for the credit portfolio. And that scale is essential to how we focus on using data and relationships to ensure that we can see early on when a company may be facing challenges. On the data front, we have systems in place to capture all the financial data from our companies and to give broad visibility as quickly as possible when a potential issue surfaces.
Next comes a rigorous review process to clearly analyze those issues and allocate resources to help resolve them. To give you an idea of just how systematic the process is: We review recent reporting daily; leaders meet weekly to identify new challenges; a "Watchlist Committee" of our most senior leaders meets monthly, and finally, we report our watchlist activities to Blackstone leadership on a quarterly basis.
In addition, I would say that we have deeper relationships with our companies than most other credit investors. Part of that connectivity develops from our value-creation activities. We talk to portfolio company leadership on a daily basis, learning what's going on in their businesses, hearing management's concerns, and working together to resolve issues. These unique relationships allow us to help companies navigate difficult situations and protect our investors' capital.
Bock: Let's say something does go "bump in the night" for a portfolio company, how do you get involved?
Boggess: It's all about collaboration in these situations. We offer our borrower companies and their sponsors a broad range of experience in dealing with distressed situations to help them navigate through whatever difficult conditions they're facing. Our experience tells us that there is no such thing as a one-size-fits-all solution, especially in times of distress. So we customize our solution to solve for the borrower's unique issue, be it operational, financial, or talent-driven. But we can only do that because we've already got a deep relationship and understanding in place. We're not parachuting into a crisis, which is often what so many lenders end up doing—bringing in outsiders. We're already inside with a level of trust that's critical to these situations.
Bock: Without naming names, can you give an example of how you have helped to protect investors from the downside?
Boggess: We had an industrial services business that was really struggling with cost and finding the right talent to staff projects. On the cost side, our procurement program helped the business save ~$2.5M, which helped lift profitability and reduce pressure on management. That bought us time to tap into our broad network to help the business find both a new chief executive and chief human resources officer, which helped the company attract and hire the right talent to further drive performance. And finally—and this is something near and dear to my heart—we helped the company build a hiring and apprenticeship program for veterans to provide a consistent pipeline of talent for their critical project work. This veterans program became an award-winning example of how to tap into the U.S. veteran population to find qualified and dedicated talent from an underutilized pool of skilled people.
Bock: You mentioned before that your team comprises both business executives and military veterans—that's a unique combo, why?
Boggess: We have very intentionally built a team with people from a variety of backgrounds. Some of us come from a restructuring and distressed investing background. Others have grown up in the credit origination and underwriting space. While others have deep operational experience, including a number of former CEOs on whom we rely from our Senior Advisor network. We also think our team has a little "special sauce" because we have a number of former military leaders who know how to handle challenging situations in a whole different way. I mean, talk about people who think about defense all the time! This combination of talents sitting around the table, working to come up with the best outcome for companies and investors, we believe leads to better and more holistic solutions than our competitors who may only have credit expertise to deploy.
Bock: Amazing. I know we've only scratched the surface of what you do, but thank you for sharing your experience and insights, and for your service and constant vigilance!
---
Past performance is not indicative of future results. There can be no assurance that any Blackstone fund or investment will achieve its objectives or avoid substantial losses.
Important Disclosure Information: All information is as of December 31st, 2022 (the "Reporting Date"), unless otherwise indicated and may change materially in the future. Capitalized terms used herein but not otherwise defined have the meanings set forth in the Offering Documents
This document (together with any related materials or links, the "Materials") does not constitute an offer to sell, or a solicitation of an offer to buy, any security or instrument, or a solicitation of interest in any Blackstone vehicle, account or strategy. If any such offer is made, it will only be by means of an offering memorandum or prospectus, which would contain material information including certain risks of investing including, but not limited to, loss of all or a significant portion of the investment due to leveraging, short-selling, or other speculative practices, lack of liquidity and volatility of returns.
Forward-Looking Statements. Certain forward-looking statements, including financial projections and estimates and statements regarding future performance, are inherently uncertain and there may be important factors that could cause actual outcomes or results to differ materially from those indicated in such statements. Blackstone undertakes no obligation to publicly update or review any forward-looking statement, whether as a result of new information, future developments or otherwise.
Highly Competitive Market for Investment Opportunities. The activity of identifying, completing and realizing attractive investments is highly competitive, and involves a high degree of uncertainty. There can be no assurance that a Fund will be able to locate, consummate and exit investments that satisfy its objectives or realize upon their values or that a Fund will be able to fully invest its committed capital. There is no guarantee that investment opportunities will be allocated to a Fund and/or that the activities of Blackstone's other funds will not adversely affect the interests of such Fund.
No Assurance of Investment Return. Prospective investors should be aware that an investment in a Fund is speculative and involves a high degree of risk. There can be no assurance that a Fund will achieve comparable results, implement its investment strategy, achieve its objectives or avoid substantial losses or that any expected returns will be met (or that the returns will be commensurate with the risks of investing in the type of transactions described herein). The portfolio companies in which a Fund may invest (directly or indirectly) are speculative investments and will be subject to significant business and financial risks). A Fund's performance may be volatile. An investment should only be considered by sophisticated investors who can afford to lose all or a substantial amount of their investment. A Fund's fees and expenses may offset or exceed its profits.
Opinions. Opinions expressed reflect the current opinions of Blackstone as of the date appearing in the Materials only and are based on Blackstone's opinions of the current market environment, which is subject to change. Certain information contained in the Materials discusses general market activity, industry or sector trends, or other broad-based economic, market or political conditions and should not be construed as research or investment advice.
Third-Party Information. Certain information contained in the Materials has been obtained from sources outside Blackstone, which in certain cases have not been updated through the date hereof. While such information is believed to be reliable for purposes used herein, no representations are made as to the accuracy or completeness thereof and none of Blackstone, its funds, nor any of their affiliates takes any responsibility for, and has not independently verified, any such information.
Trends. There can be no assurances that any of the trends described herein will continue or will not reverse. Past events and trends do not imply, predict or guarantee, and are not necessarily indicative of, future events or results.
PWS202302426S