Market Views
Private Credit Investing in Rising Rate Environments
A highly synchronized recovery has spurred an increase in prices and, potentially, interest rates. Private credit generally consists of floating rate loans, which may be resilient in a rising rate environment.
---
Why could rising rates be on the way?
Improving pandemic conditions, private sector liquidity, pent-up consumer demand, and fiscal stimulus have combined to drive prices and rates higher. Investors are facing clear signs of near-term inflation and the potential for rising rates off exceptionally low levels. Given this backdrop, and the near record high duration of aggregate bonds, many investors may find themselves overweight long-duration fixed income.
Figure 1: Historical Yield of a 10-Year Treasury Note (1953-2021)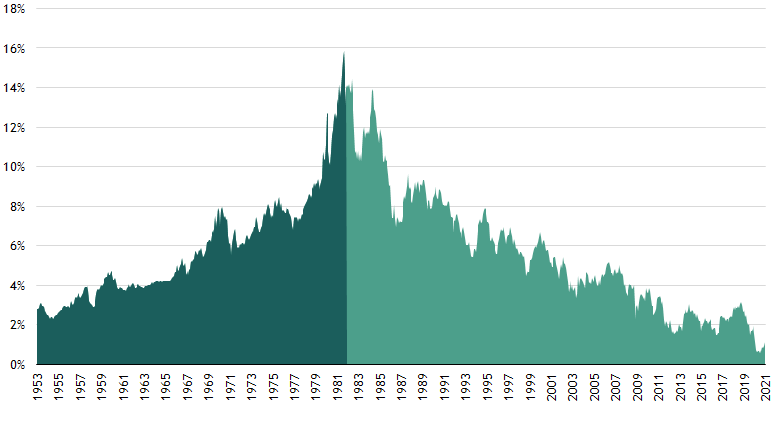 Source: Federal Reserve, as of 3/31/21. This time period was selected because Blackstone believes it captures long-term trends in interest rates and the unusual nature of low current yields on Treasuries. The information herein is provided for educational purposes only and should not be construed as financial or investment advice, nor should any information in this document be relied on when making an investment decision. Opinions expressed reflect the current opinions of Blackstone as of the date hereof and are based on Blackstone's opinions of the current market environment, which is subject to change. Past events and trends do not imply, predict or guarantee, and are not necessarily indicative of, future events or results.
Figure 2: Cumulative Mutual Fund & ETF Flows (1/1/2020-Present)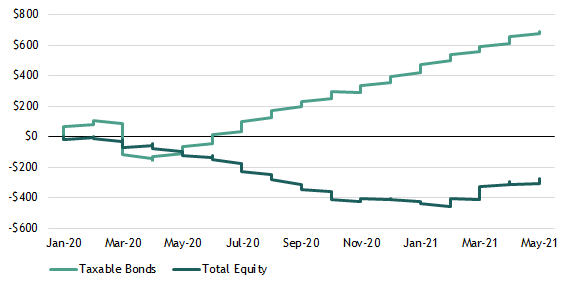 Source: Investment Company Institute data from Bloomberg, as of 5/19/2021.
What has made private credit more resilient in rising rate environments and therefore, we believe, an attractive consideration for investors today?
Floating Rate Loans. With rising rates expected in the next cycle, long duration investors may struggle to earn the same returns as they did in the last cycle. Private credit tends to be floating rate, which may limit the rate risk that is inherent in traditional fixed income today.
Privately Negotiated Deals. With private credit, investors can access a wide funnel of deals, and the manager aims to select only the best ones. Private credit managers generally aim to negotiate better structures, including senior secured and with covenants which make them more defensive strategies. Private credit transactions are bilateral by nature and are negotiated directly with the issuer, which is often the private equity sponsor.
Less Volatility. Less volatility is expected in the asset's valuations because private loans are not traded. Managers generally aren't forced to mark to market during periods of economic dislocation. Private loans have offered relatively low historical volatility, while still maintaining attractive returns, when compared with the public markets.1
Credit quality improves with the economic recovery. The credit quality of issuers generally improves with economic recoveries, something which reduced the recent credit risk concerns that peaked in April 2020.2 Rising rates are an outcome of a highly synchronized economic recovery and could become a force to reckon with.
Fixed Income Duration
Long duration makes fixed income assets more sensitive to changes in interest rates
Higher Treasury yields are expected to result in larger drawdowns for traditional fixed income returns
Figure 3A: Impact of Rising Treasury Yields on Traditional Fixed Income (Based on Bond Prices and Treasury Yields as of 6/11/2021)

We used market duration and the 10-year Treasury yield to model the total return of the Bloomberg Barclays US Aggregate Bond Index
The model aims to show how much of the bond index's total return is due to its average duration and the 10-year Treasury yield
Figure 3B: Projected Total Return Loss to Traditional Fixed Income (Based on bond prices and Treasury yields as of 6/11/2021)
Source: Bloomberg and Blackstone Investment Strategy, as of 6/11/2021. Projections based on a linear model that decomposes the price of the Bloomberg Barclays US Aggregate Bond Index on the index's average duration of underlying securities and on the 10-year Treasury yield's level and 30-day percentage change, based on daily data from 1/3/89 to 3/25/21.
1. Morningstar, over a 15-year period ending December 31, 2020. Volatility is measured using standard deviation. Morningstar computes standard deviation using the trailing quarterly total returns for the appropriate time period
2. Blackstone Credit as of December 31, 2020; JPM Default Monitor, April 1, 2021
Important Disclosure Information
The views expressed in this commentary are the views of Private Wealth Solutions and Blackstone Credit groups of The Blackstone Group Inc. (together with its affiliates, "Blackstone") and do not necessarily reflect the views of Blackstone itself. All information in this commentary is believed to be reliable as of the date on which this commentary was issued, and has been obtained from public sources believed to be reliable. No representation or warranty, either express or implied, is provided in relation to the accuracy or completeness of the information contained herein.
Investment concepts mentioned in this commentary may be unsuitable for investors depending on their specific investment objectives and financial position. Tax considerations, margin requirements, commissions and other transaction costs may significantly affect the economic consequences of any transaction. Concepts referenced in this commentary and should be reviewed carefully with one's investment and tax advisors
This commentary does not constitute an offer to sell any securities or the solicitation of an offer to purchase any securities. This commentary discusses broad market, industry or sector trends, or other general economic, market or political conditions and has not been provided in a fiduciary capacity under ERISA and should not be construed as research, legal, tax or investment advice, or any investment recommendation. Past performance is not necessarily indicative of future performance.
Recipients should bear in mind that past or estimated performance is not necessarily indicative of future results and there can be no assurance that a fund will achieve comparable results, implement its investment strategy, achieve its objectives or avoid substantial losses or that any expected returns will be met.
The activity of identifying, completing and realizing attractive investments is highly competitive, and involves a high degree of uncertainty. There can be no assurance that a fund will be able to locate, consummate and exit investments that satisfy its objectives or realize upon their values or that a fund will be able to fully invest its committed capital. There is no guarantee that investment opportunities will be allocated to a fund and/or that the activities of a sponsor's other funds will not adversely affect the interests of such fund.
Recipients should be aware that an investment in a fund is speculative and involves a high degree of risk. There can be no assurance that a fund will achieve comparable results, implement its investment strategy, achieve its objectives or avoid substantial losses or that any expected returns will be met. A fund's performance may be volatile. An investment in a private equity fund or other alternative investment should only be considered by sophisticated investors who can afford to lose all or a substantial amount of their investment. A fund's fees and expenses may offset or exceed its profits.
Certain countries have been susceptible to epidemics which may be designated as pandemics by world health authorities, most recently COVID-19. The outbreak of such epidemics, together with any resulting restrictions on travel or quarantines imposed, has had and will continue to have a negative impact on the economy and business activity globally (including in the countries in which funds invest), and thereby is expected to adversely affect the performance of a fund's investments. Furthermore, the rapid development of epidemics could preclude prediction as to their ultimate adverse impact on economic and market conditions, and, as a result, presents material uncertainty and risk with respect funds the performance of their investments.
The foregoing information has not been provided in a fiduciary capacity under ERISA, and it is not intended to be, and should not be considered as, impartial investment advice.
Certain information contained in these materials constitutes "forwardlooking statements," which can be identified by the use of forward-looking terminology or the negatives thereof. These may include financial estimates and their underlying assumptions, statements about plans, objectives and expectations with respect to future operations, and statements regarding future performance. Such forward-looking statements are inherently uncertain and there are or may be important factors that could cause actual outcomes or results to differ materially from those indicated in such statements. Blackstone believes these factors include but are not limited to those described under the section entitled "Risk Factors" in its Annual Report on Form 10-K for the fiscal year ended December 31, 2020, and any such updated factors included in its periodic filings with the Securities and Exchange Commission, which are accessible on the SEC's website at www.sec.gov. These factors should not be construed as exhaustive and should be read in conjunction with the other cautionary statements that are included in these materials and in the filings. Blackstone undertakes no obligation to publicly update or review any forward-looking statement, whether as a result of new information, future developments or otherwise.
There can be no assurances that any of the trends described herein will continue or will not reverse. Past events and trends do not imply, predict or guarantee, and are not necessarily indicative of, future events or result.
Certain information herein has been obtained from sources outside Blackstone, which in certain cases have not been updated through the date hereof. While such information is believed to be reliable for purposes used herein, no representations are made as to the accuracy or completeness thereof and none of Blackstone, its funds, nor any of their affiliates takes any responsibility for, and has not independently verified, any such information.
Blackstone Securities Partners L.P. ("BSP") is a broker-dealer whose purpose is to distribute Blackstone managed or affiliated products. BSP provides services to its Blackstone affiliates, not to investors in its funds, strategies or other products. BSP does not make any recommendation regarding, and will not monitor, any investment. As such, when BSP presents an investment strategy or product to an investor, BSP does not collect the information necessary to determine—and BSP does not engage in a determination regarding—whether an investment in the strategy or product is in the best interests of, or is suitable for, the investor. You should exercise your own judgment and/or consult with a professional advisor to determine whether it is advisable for you to invest in any Blackstone strategy or product. Please note that BSP may not provide the kinds of financial services that you might expect from another financial intermediary, such as overseeing any brokerage or similar account. For financial advice relating to an investment in any Blackstone strategy or product, contact your own professional advisor
In the United Kingdom and the European Economic Area: issued by The Blackstone Group International Partners LLP ("BGIP"), authorised and regulated by the Financial Conduct Authority (FRN: 520839) in the United Kingdom. This communication does not constitute a solicitation to buy any security or instrument, or a solicitation of interest in any Blackstone fund, account or strategy. The content of this communication should not be construed as legal, tax or investment advice.
This material is exclusively for use by persons who are Professional Clients or Eligible Counterparties for the purposes of the European Markets in Financial Instruments Directive (Directive 2014/65/EU) and must not be distributed to retail clients or distributed onward.